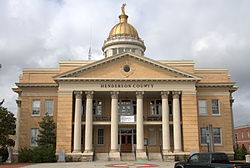 Henderson Counbty's commissioners may well lower county property taxes in the new fiscal year starting July 1. Commissioner Tommy Thompson advanced the idea of reducing the tax rate to 50 cents per $100 valuatiuon in this week's commissioner's meeting.l Thompson had opposed the idea a year ago.,..but now says he believes the time may be right and he feels such a reduction will work.
County manager Steve Wyatt has announced he plans to recommend no tax increase in the 2014-15 fiscal tyear budget...and that apparently opened the door for Thompson to propose the cut. There may well be a majority of the commissioners who support such a tax cut, but no official action will be taken until much later this spring as commissioners get into the budget process.
Three of the five commissioners are up for re-election this year. Commissioner Larry Young says he plans to file for election to another term; Commissioners Thompson and Mike Edney will announce their intentions later this month.
Filing for local offices in this year's election starts in February.