Hendersonville Precipitation Average This February---Almost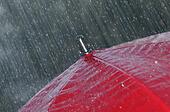 FEBRUARY RAIN
Hendersonville's total precipitation for the month of February this year was only slightly below average: this year's February total was 4.21 inches of rain, sleet, melted snow...while 4.64 inches is the long term avrage for February.
Hendersonville's heaviest precipitation this February came late in the month.
Even though February's total was slightly below the long term average for the month, the basic trend of average-to-above average precipitation that started last year is continuing.
Precipitation totals are calculated based on daily observations and measurments for Hendersonville taken at Hendersonville's official National Weather Service "observation station", WHKP at Broadcast House.