Installation Of New Automated Meter Reading System Completed This Week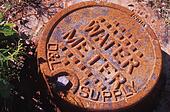 CITY'S NEW MULTI-MILLION DOLLAR WATER METER SYSTEM INSTALLATION COMPLETED THIS WEEK
Hendersonville Utilities Director Lee Smith told WHKP News this week that installation of the city's all new $11.6 million dollar automated water meter system is being completed this week. Smith told WHKP "In fact, as of today, (Thursday) the new system is 99.8 per cent completely installed."
Smith pointed out that since the installation of the new system began last year, over 25,000 all new water meters have been installed for customers on the city water system. And as of this Thursday, work remained on only 39 meters. Smith said final touches on the new system would be completed and the system would be fully operational by the last day of this month.
No longer will "meter readers" be going around Hendersonville reading meters and measuring water usage.
The new automated system automatically measures the water usage at each residence or business and sends that data to a number of "towers" that have been constructed since last fall scattered through the city water system. That data is then used to determine the amount of total usage and the monthly water bill for each customer.
Smith said the only issue with the new system that has caused some concern for customers is the "locking lids" on the new meter boxes. He said customers are not supposed to remove the lids, and it's important that the lids NOT be removed because of the sensitivity of the techincal equipment in the new meters. Some customers have been going into the new meters to shut off their water and he said the city would be working with the new system and with customers to determine a better way for customers to shut off their water when they need to.
Smith said it typically takes a couple of weeks for the new meters to begin communicating their data to the towers…but all that should be working and in full operation by the end of May.
Work on the system began last fall and continued through the winter months. Smith said it's all been done "on budget" with no cost over-runs.
Mayor Barbara Volk told WHKP News that higher water rates, if approved by city council for the new budget year starting July 1. would be used for a while to pay for the debt service on the new system.
Smith said if any customers have problems or issues with the new system, they should contact his office at City Hall.
By WHKP News Director Larry Freeman
12noon Thursday
May 16, 2013