Egolf Chrysler, Dodge, Jeep And Ram Sold; New Owner Will Continue In Same Location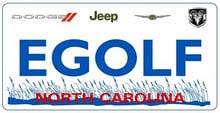 SOLD ON THEIR 41ST ANNIVERSARY
Hendersonville's Chrysler, Dodge, Jeep, and Ram franchise dealership, Egolf Motors, has been sold.
Owner Jeff Egolf said Monday afternoon the transition of ownership has been a smooth one and the new owner will operate the local franchise as Hendersonville Automotive Group at the same location on Duncan Hill Road.
Egolf made the announcement of the sale on the businesses 41st anniversary in business in Hendersonville.
Jeff Egolf thanked his many customers Monday afternoon...for their business, their support, and for their friendship, he said. Egolf said his son Jay will continue as the owner and operator of the Ford and the Chrysler, Dodge, Jeep, and Ram dealership in Brevard.
The owner of the Hendersonville Automotive Group is Mr. Van Olp...and Jeff EgolF said Monday afternoon..."I wish Van and his employees the best of luck in the future."
Egolf began operating a Dodge, Plymouth and Chryster dealership in 1972 in the south end of Hendersonville at the intersection of South Main and South Church. Egolf had acquired the old franshise known as Pete Folsom Motor Company for many years. As his business grew and expanded, Egolf moved some years later to the Duncan Hill Road location.
And in just the last few years, Egolf acquired the Ford dealership in Brevard and began selling Chrisler and Jeep products there as well.
Jeff Egolf and family have been very active in community and civic affairs over the years, and have been very supportive of a variety of local charities and organizations.