To The NC General Assembly: Give Us Back Our Sales Tax Holidays; A WHKP Station Editorial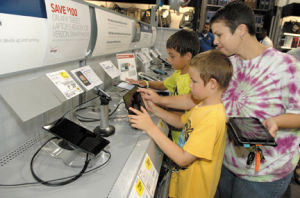 This weekend's shopper's in Morehead City, NC
TO THE NC GENERAL ASSEMBLY: GIVE US BACK OUR SALES TAX HOLIDAYS
A WHKP Station Editorial
August 4, 2013
When the North Carolina General Assembly tackled the arduous, meticulous, time-consuming, and at times gut-wrenching job of state "tax reform" this year, some things were destined to fall through the cracks, some mistakes were inevitable, and some bad choices were bound to be made. That's what future sessions are for…to set RIGHT what got set WRONG this year. One thing that got caught up in "tax reform" that should NOT have was the state's "sales tax holidays".
In canceling the sales tax holidays, the legislature was quick to point out that this loop-hole, which was one of 48 out of 300 state tax loop-holes closed in their reforms, was costing the state over $13 million a year in sales tax revenue. But it's surprising…shocking, in fact…and very instructive that the Republican-controlled legislature, and the Republican governor who signed state tax reform into law, conveniently forgot the most fundamental "truisms" of "Reaganomics"…that when taxes don't exist or are kept low, people spend MORE…and when they do, the economy GROWS, people have jobs, and government on all levels rake in MORE tax revenue of every kind.
North Carolina's sales tax holidays have been good not only for the state's economy, but also for the budgets of everyday, hard working, consumers. Most of us don't get the high-fallutin tax breaks this year's reforms were intended to plug up, but we DID appreciate the relief we got on those sales tax holidays…and we DID pump a lot of our hard-earned money into the state and local economies on those days.
The sales tax holiday just ended, likely our last…was the one many folks used to buy school supplies. The state's legislators must not have school kids in the family or they'd realize how important that tax break has been. School supplies…just the "basics"…notebooks, paper, pencils, crayons…are now costing more than $600 per child. THEN we get into the expensive things that kids need now-a-days like computers, backpacks, and cell phones. The sales tax holiday was saving the average parents about $43 per child on school supplies. That was a tax break that wasn't wasted…parents don't bury that savings in tax shelters or send it to the Cayman Islands…they SPEND it on other necessities and pump it right back into the economy; which generates more tax money for Raleigh, which is the way a successful and growing economy works best…again, "Reaganomics 101".
The sales tax holiday which HAD been scheduled for later this year, close to the holidays, not only promoted sales and boosted the economy going into the holidays… it also encouraged consumers to buy energy efficient, or "Energy Star", products. With this bit of encouragement now canceled, we're surprised we haven't heard protests from the cool, "green" bunch, all the way from Asheville to the Obama Administration.
Not only did the Tar Heel state's Republican lawmakers flunk the course in Reganomics in this case, they also over-looked the obvious…that every one of our key border states…South Carolina, Virginia, and Tennessee…HAS sales tax holidays…which means that many consumers will be driving across state lines to take advantage of the savings…and taking all that money completely OUT of North Carolina….like many have been buying their gas and their booze in border states to avoid good ole North Carolina's sky high gas and liquor taxes. It's a shame that Raleigh has never learned from Reagan and Sam Walton…the economic wisdom of keeping margins LOW and volumes HIGH…and of keeping money IN the economy.
As we said, some things were destined to "fall through the cracks" in an undertaking like "tax reform". And North Carolina's sale tax holidays were unfortunate casualties of that reform this year. This though is a casualty that can be remedied in future sessions. We're fortunate to have some of the most powerful and influential members of the legislature living in our community…and we hope they "get" this message and set this right and give us all, including our economy, the break we need…and restore the sales tax holidays.
As always, we invite your comments…on our comments.
By WHKP News Director Larry Freeman