City Candidates Participate In 7th Avenue East Forum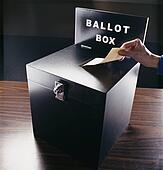 2013 MUNICIPAL ELECTIONS
Candidates for mayor and city council in Hendersonville's upcoming municipal election took part in a candidates forum Monday night in the old train depot sponsored by Historic Seventh Avenue East.
The only council candidate who was not there submitted answers and statements in writing to the forum. All three candidates for mayor participated.
Topics and issues discussed by the candidates ranged from crime and security in the 7th Avenue East area to business development and economic incentives.
All the candidates seemed to be pleased with better personal safety and security in recent years on 7th Avenue East…and all appeared to favor growth and development in that area, although there was some discussion on incentives and on ways to make that part of town look better.
The field of six candidates for the two available seats on city council will be narrowed down to four, and the thre candidates for mayor will be narrowed down to two in a city primary election on October 8th…the general election is November 5th. WHKP Radio will broadcast a full morning candidates forum, with all candidates for mayor and council on Tuesday morning October 1st…phone lines will be open for questions from 9am until 12noon. WHKP will also be broadcasting complete elections returns as the polls close…on both October 8th and November 5th.