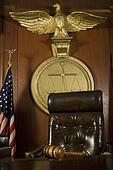 The North Carolina Court of Appeals will hold a session of court in Hendersonville on Monday, October 20 at 1:00 p.m. The appeals court will sit in the former main courtroom (now used for meetings of the County Commissioners) of the Historic Courthouse in downtown Hendersonville, and will be open to the public.
The court session was scheduled by the Court of Appeals, which usually holds court in Raleigh, after an invitation by the Henderson County Bar Association, the local group for Henderson County lawyers. "We're very excited that the Court has accepted our invitation to visit Hendersonville," said Bar Association President Anderson Ellis. "This is a terrific opportunity for the residents and students of Hendersonville to experience first-hand one of the higher levels of our state judicial branch. We hope that everyone will take advantage of the visit to become familiar with how our appeals court works."
In North Carolina, civil and criminal cases first go to trial in the District and Superior Courts, which are conducted in each county in the state. If a case is appealed from these courts, unless it is a murder case in which the death penalty is given, it is heard by the Court of Appeals. The Court reviews cases for errors of law and legal procedure, and its fifteen judges are elected and serve eight-year terms.
The three-judge panel of Judges Linda McGee, Robert Hunter, and Sanford Steelman are set to hear two cases in Hendersonville. The first case, Bottom v. Bailey (COA 14-564), is an appeal from Buncombe County and addresses the mishandling of funds involved in a "check kiting" scheme. The second case, Town of Black Mountain v. Lexon Insurance Company (COA 14-740), is also an appeal from Buncombe County, and revolves around bonds issued for the construction of a subdivision that fell through due to the recession of 2008-2009. Each case has two parties, and each party is given 30 minutes to argue; each case will take approximately one hour, and the court session will run from 1:00 p.m. until approximately 4:00 p.m.