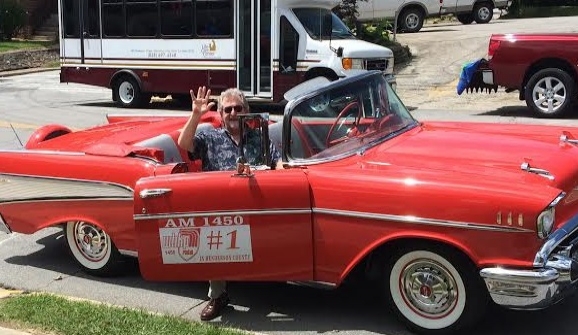 WHKP's host on the "Good Morning, Morning Hendersonville" radio show, Randy Houston, represented WHKP in the parade this year and rode down the street in a classic bright red 1957 Chevy convertible furnished by the local antique car club.
As a hot late summer sun baked down on Main Street, "King Apple" Parade goes lined up ten deep or more along Main Street Monday afternoon for the climax of the 2014 North Carolina Apple Festival.
Local apple grower Kenny Barnwell was the parade's Grand Marshall, and a guest of honor for this year's parade was North Carolina Governor Pat McCrory.
This year's Apple Festival is already being hailed as one of the most successful ever. The festival annualy celebrates Henderson County's multi-million dollar apple "industry"p, which by all acounts is believed to be an unusually good crop this year.
It always starts on Friday with the annual Kiwanis Club breakfast, which packed the house again this year at the First Baptist Church...and ends with the last floats and horses going down Main Street in the parade on Monday afternoon.
Main Street was closed off for the event again this year which saw thousands up and down the street over the long Labor Day weekend period, but Main Street was re-opened to routine traffic as the parade ended Monday afternoon.
(McCrory photo from The Hendersonville Times-News)
The southwest Gulf of Mexico has given birth to this season's fifth tropical depression.
The system will take a west-northwest path across the Bay of Campeche through Wednesday.
According to Hurricane Expert Dan Kottlowski, "It is likely the area will become the next tropical storm of the season in the Atlantic."
Rough surf and the risk of strong rip currents will spread from the northeastern Mexico coastline to the beaches of South Texas.
This animated gif shows the tropical wave approaching the Bay of Campeche in the southwestern Gulf of Mexico. (NOAA/Satellite)
"The system will only have a couple of days to develop, before moving onshore near Tampico, Mexico, on Wednesday," Kottlowski said.
As a result the system is not likely to become very strong.
People along the coast of northeastern Mexico will need to monitor the situation through midweek, as there will be the increasing potential for rough seas, heavy rain and perhaps damaging thunderstorm wind gusts.
"Regardless of whether or not the system develops into a tropical storm will be the risk of life threatening flash flooding and mudslides in the foothills and higher terrain of the Sierra Madre Oriental mountains," Kottlowski said.
RELATED: AccuWeather.com Hurricane Center FLASH Urges Early Action In Hurricane Preparation Mexican Weather Center
Cities in Mexico that can be affected include Veracruz, Tuxpan and Tampico. Brownsville, McAllen and Harlingen, Texas, may also be on the fringe effect of the system, in the form of showers and thunderstorms.
On a positive note, much of the area from the Yucatan Peninsula to northeastern Mexico and South Texas is in need of rain.
Downpours affected the Yucatan Peninsula and part of Central America this weekend, where rainfall has be well below average this year so far.
Factors for Development
"The water is very warm in this part of the Gulf of Mexico," Kottlowski said.
The warm water will add energy to the system should it begin to develop.
Wind shear is not strong in the region.
Wind shear refers to belts of winds in the upper levels of the atmosphere that can shred apart tropical systems when strong.
The orientation of the Bay of Campeche and how it aligns with the counter-clockwise flow around developing systems may be another contributing factor to tropical development.
"Weak systems that enter this region of the Gulf of Mexico tend to be aided by the curvature of the coast, which helps to spin systems up into tropical depressions or storms," stated AccuWeather.com Meteorologist Rob Miller.
The Season So Far
In terms of the 2014 Atlantic hurricane season, the year so far has been running slower than average in some cases and ahead of average in others.
Excluding tropical depression five, there have been four other tropical depressions in the Atlantic, of which three strengthened and became hurricanes.
The average date for the fourth named system is Aug. 23. However, the average date for the third hurricane of the season is Sept. 9. Cristobal became the season's third hurricane on Aug. 24.
The last time it has taken this long to get to the letter "D" in storm names was in 1994, when Debby formed on Sept. 9.
The next tropical storm in the Atlantic Basin will acquire the name "Dolly."
If it's fried and can be served on a stick, it will probably be sold at the 21st annual N.C. Mountain State Fair, Sept. 5-14 at the WNC Agricultural Center in Fletcher.
The James Drew Exposition will return with its usual assortment of razzle-dazzle carnival rides and again operate the chairlift sweeping across the fairgrounds. Plenty of family attractions will be offered including an illusionist, a hypnotist, stilt puppets, a sea lion show and Kenyan acrobats.
Gone this year is a stage with local rock acts, but the Mountain Music Festival will again showcase local bluegrass and old-time entertainment, said fair spokesman Ron Stamey.
Last year's fair set an attendance record of 191,596, helped by "ten days of great weather," Stamey said.
Much about this year's fair will be familiar. The Friday Night Frenzy promotion returns on both fair Fridays, with a $20 one-price ticket covering unlimited rides, 9 p.m.-1 a.m. Another promotion on Sept. 9 will give children ages 12 and younger unlimited rides for $20.
Fair and ride tickets are on sale now at Western North Carolina Ingles supermarkets, the WNC Agricultural Center and the WNC Farmers Market. Prices are unchanged from last year: $6 advance admission, $8 gate, and $2 and $4 for ages 6-12 and 65 and older. Ride tickets are $7.50 for a sheet of 12 advance, $15 when purchased at the fair. Multiple tickets are needed for each ride.
Other sideshow attractions include K9s in Flight with rescued and adopted dogs, Josh Knotts and Lea with illusion and escapes, Brad the comic hypnotist, "Wild Encounters" with naturalist Carlton Burke, pianist Leon Jacobs Jr., magician and agricultural specialist Brad Matchett, the Hogway Speedway racing pigs, chainsaw artist Joey Rowe, Bill's Farm Adventure, the Mooternity Ward with animals giving birth, the Dixie Starlight Express cowgirls and the Heritage Walk.
As for those fried and skewered treats, look for pineapples, pork chops, Milky Way candy bars, cheesecake, peanut butter and jelly sandwiches, pickles and the ever-popular corn dogs.
From The Asheville Citizen-Times
FRIENDS OF CONNEMARA PRESENT THE FIFTH ANNUAL HOBO BALL ON SEPTEMBER 13TH AT CAMP TON-A-WANDAH IN FLAT ROCK
The event is the Friends' primary fund raiser benefitting Carl Sandburg Home National Historic Site. A casual, fun filled evening is being planned for guests, and will be held in a new venue this year: Camp Ton-A-Wandah, located just down the road from the Sandburg home. The 2014 commemorates the time young Sandburg spent as a hobo, working from town to town all over the American landscape. This experience formed the basis for much of Sandburg's writing, world view, and deep appreciation for the diversity and strong, capable, determined character of early 20th century Americans.
This year, denim and comfy boots or walking shoes will definitely be the best options for the early autumn event. Tickets are $85. per person. The Ball will feature a social hour followed by a hearty buffet dinner, live auction by Auctioneer Jerry Stone, and then dancing after dinner accompanied by area band Crocodile Smile. Complimentary wine and beer provided by Highland Brewery and delicious food prepared by local caterer Antionette will be served in the unique waterfront pavilion that literally sits on the water. Interestingly, the dining hall is built atop a dam that straddles the lake at Camp Ton-A-Wandah. The gentle sound of water slipping over huge granite slabs along the side of the dining hall of the Camp will provide a soothing backdrop for the nights festivities. The airy lakeside event venue, part of a larger camp construct owned and operated by Friends supporters and Executive Directors Billy and Judy Haynes, promises to be an unforgettable locale for the 2014 festivities.
The Hobo Ball was originally conceived as a way to continue to share the Sandburg legacy while raising funds to support the work of Park in areas where no other funding exists. Enhanced trail maintenance as well as sustained educational and interpretive programs all serve to enrich the experience of the visiting public to the Carl Sandburg Home National Historic Site at Connemara. Park Superintendent Tyrone Brandyburg asserts that "…some programs would otherwise go unfunded without the work of the
Friends fund raising efforts and the support of the local community. The Friends have been consistent supporters of offerings such as the Junior Park Ranger Program, teacher education workshops, the Writer-in-Residence Program, our annual student poetry contest, and in the provision of education resource materials for teachers and tour leaders, among many things".
The hobo theme of the biennial event echoes the life and youthful adventures of a man who worked hard during the day and by night collected folk songs, played, sang, and wrote extensively. Through music and writing, Sandburg crafted together elements of various cultural traditions he encountered in his travels in to what became recognized as an uniquely American paradigm. Sandburg himself eventually came to embody some of the best of the American ideal. Event Chairmen Gwen Kuhns and Ron Katz are both very active volunteers at the Carl Sandburg Home at Connemara, looking after the animals in the Park's ever popular goat barn and otherwise working all over the property.
Both are accomplished hikers and outdoor enthusiasts, and wanted the 2014 Hobo Ball to have an open, comfortable, casual tone. Camp Ton-A-Wandah, located in Flat Rock, provides an authentically historic and rustic setting very similar to the National Historic Site property the Sandburgs loved so well. Summer camp, lakeside dining and activities for children and families have been a feature of Flat Rock and Henderson County since the early days of settlement in the area. It was surely the wonderful climate and the beauty of the mountains, sky, lakes and the pastoral lay of the land that drew many from southern coastal areas in the 19th century, and then the Sandburgs to the area in the 1940's — and many area residents since that time.
Sandburg himself hiked, played his guitar and told stories around the campfire all over the country on his hobo journeys, so it made sense to move the event to an area camp. Gwen Kuhns and Ron Katz are among many fans of Flat Rock's outdoor and hiking scenes. Generations of young campers have fond memories of the locale and traditions of the storied Camp Ton-a-Wandah, where Kuhns was once a camp counselor. Kuhns related "…the Ball committee wanted the event to have a easy, relaxed, open-air feeling this year. We all felt like the Ball should take place in Flat Rock, close to Connemara, and reflect the values and ideals of life in the area." Chairman Ron Katz added "We've arranged for some terrific auction items donated by many generous area businesses and individuals, and will have some really great live music by the band Crocodile Smile."
Both chairmen agree that "fun" is the operative word for this year's Hobo Ball. Sandburg had a keen interest in the well being of others. His open minded willingness to venture out and find work in great cities, small towns, on farms, and in the fields is well documented. His interest was not only to make a living, but in the experience of meeting and learning from all kinds of places and people. Carl Sandburg often called himself the "eternal hobo", and always carried his guitar while traveling around. His plain spoken style, keen observations, passion for folk music and sharing anecdotes from all genres became the basis for a long, rich career.
In later life, as a resident of Western North Carolina, he became known as the "Poet of the People", consummate storyteller, bard, correspondent, social observer and author of many critically acclaimed books and poems. Flat Rock, as the place that the Sandburgs chose to spend their later years, is perhaps the perfect locale to carry forward the legacy of the life and work of Sandburg as an individual and that of the Sandburg family, as part of the cultural heritage of Henderson County. Join the Friends of Carl Sandburg at Camp Ton-A-Wandah to celebrate Sandburg's enduring contribution of literature, song, and love of nature.
For additional information or event tickets, please phone (828) 696-3455 or The Friends of Carl Sandburg web site www.friendsofcarlsandburg.org.
The Henderson County Friends of the Library are busy collecting and sorting a mountain of books for their twice a year book sales.
The first day of the fall sale begins on September 6th at 10 AM at 1940 Spartanburg Highway.
The sale runs weekends over three weeks ending September 21.
Monies raised goes for the support of local libraries.
Henderson County Sheriff Charles McDonald & Emergency Manager Rocky Hyder
want to help citizens be prepared. They are inviting residents to learn valuable life-saving skills at a FREE Emergency Preparedness Fair. The fair will be held in conjunction with Farm City Day.
Date: Saturday, October 4th
Time: 10 a.m. - 4 p.m.
Location: Jackson Park - 801 4th Avenue East, Hendersonville
Disasters can happen at any time, so why not prepare for them? Weather events, local disasters, economic crisis, and personal incidents can all be greatly minimized by having a little extra on hand and knowing what you can do to better prepare your family.
This event is FREE and OPEN TO THE PUBLIC.
Come and learn from disaster management experts how you and your family can be prepared for the next emergency. See what you should have on hand to help you prepare for the unexpected.
A spokesman for the sheriff's department said, our community has a wealth of knowledge and resources to help you and your family get through emergency situations with a little knowledge and preparation.
Our mission is to bring the Emergency Preparedness Fair to our area to support and assist agencies and organizations dedicated to preparing the people of Western North Carolina for emergencies and disasters which could affect us in the future.
Our goal is to help those living in our area receive the information, resources and skills needed to protect themselves, their families and the community and to learn to be self-sufficient in the event of a disaster.
Hendersonville linebacker coach Eric Gash works with a player during a past practice. (Photo by Times-News File)
WHKP AND WHKP.COM HAVE A FULL SCHEDULE OF BROADCAST GAMES PLANNED STARTING AUGUST 22ND WITH THE T.C. ROBERSON @ NORTH HENDERSON GAME. LIVE PLAY-BY-PLAY OF EACH GAME WILL BE BY BEAU LOVELACE AND COMMENTARY WILL BE BY LUKE LOVELACE
Practice has been underway now for weeks..
Tommy Pursley will be the new head football coach at Tuscola High School
Former Mountaineers coach Brandon Allen was introduced as the new coach at Morganton Freedom.
In addition, Hendersonville announced Monday that longtime coach B.J. Laughter was stepping aside to become the Bearcats' athletic director and an assistant principal. He will be replaced on the sidelines by Hendersonville alum Eric Gash, who is also the Western Highlands Conference program's girls basketball coach.
Gash and Allen's successor at Tuscola will be the seventh and eighth new coaches for Western North Carolina since last season ended in December.
Who are the others?
Cherokee - Kent Briggs
East Henderson - Mac MacMillan
Hayesville - Mitch Myers
Hendersonville - Eric Gash
Mitchell - Travise Pittman
Polk County - Jamie Thompson
Roberson - Chris Deal
Tuscola - Tommy Pursley
Practice for NCHSAA football teams officially began Aug. 1 and the first playing date for regular-season games is Friday, Aug. 22.
WITH A FULL SCHEDULE OF GAMES INVOLVING HENDERSON COUNTY TEAMS, WHKP'S FIRST BROADCAST GAME IS AT 7PM FRIDAY AUGUST 22ND...T.C. ROBERSON AT NORTH HENDERSON HIGH SCHOOL
PLAY-BY-PLAY BEGINS ON AM 1450 AND WHKP.COM AT 7PM WITH BEAU AND LUKE LOVELACE

ALL THE SCORES FROM WESTERN NORTH CAROLINA GAMES WILL FOLLOW WITH TYLER SAMS
Hendersonville, NC, June, 21 2014:
During the months of July and August, the City of Hendersonville will be performing maintenance on several different streets within the City.
The extent of the maintenance will vary depending on the situation. Some streets may simply be given a new layer of asphalt overlaying the existing surface, while other streets may have a layer of tar and gravel applied before they are overlayed with new asphalt. Still other streets will have the existing surface milled down a few inches and then receive a new layer of asphalt. Construction will begin by mid-July and is scheduled to be completed within 60 days weather permitted. The paving contractor will be determined at the July 3rd bid opening.
Streets to be resurfaced: 5th Ave from Oak to Fleming Buncombe from 5th Ave to 4th Ave Washington from 5th Ave to 1st Ave 1st Ave from Washington to Grove 2nd Ave from Washington to King Grove from 1st Ave to 4th Ave Caswell from Church to Main 7th Ave from Grove to Maple Lincoln Circle beginning at Ray Ave
In the event there are funds left over in the 2014 resurfacing budget, additional streets will be considered for resurfacing as well.
For questions about this project, please call Tom Wooten at (828) 697-3084.
Hendersonville city officials are planning a day-long city BUDGET REVIEW for the new fiscal year, 2014-15, which begins July 1.
The BUDGET REVIEW will be in City Hall all day this Friday...below is the schedulke and agenda for the meeting:

CITY OF HENDERSONVILLE CITY COUNCIL – SPECIAL MEETING
BUDGET REVIEW
FOR FISCAL YEAR 2014-15
MAY 16, 2014 – 8:30 A.M.
SECOND FLOOR CONFERENCE ROOM IN CITY HALL
8:00 a.m. Breakfast served
8:30 a.m. Call to Order; General Overview of Budget
9:00 a.m. Review of Requests for Special Appropriations – Round 1
9:45 a.m. General Fund Review
11:30 a.m. Environmental Services Fund Review
Noon – 1:00 p.m. Recess for Lunch
1:00 p.m. Downtown/Seventh Avenue Tax Districts Review
1:30 p.m. Water and Sewer Fund Review
2:30 p.m. Review of Requests for Special Appropriations – Round 2 (if
needed)
3:00 p.m. General Budget Discussion and Other Business
3:30 Adjourn
The NC Apple Festival can use Volunteers in the beverage & merchandise booths Friday through Monday in 3 hour shifts starting at 9:00 A.M.
This is GREAT fun & a good way to see the Festival with out dealing with the crowds so much, you can see a lot from the booths, out of the sun! Every one who volunteers gets a t-shirt with the current years logo and free drink coupons!
Pick someone to sign up with you, a spouse, friend, child or grandchild, IT IS A LOT OF FUN!!
The following are times that are available: 9:00-12:00, 12:00-3:00, 3:00-6:00 & 6:00-9:00 Friday through Sunday. Monday 9:00-12:00, 12:00-3:00(this shift always has a great view of the parade!! that starts at 2:30)
Contact...