Hendersonville was recently voted one of the safest cities and the best place to retire in North Carolina.
SmartAsset, a New York financial technology company, recently released its second annual study on the Best Places to retire. The study rates cities by their tax friendliness, recreational and social opportunities for seniors, and availability of medical care. Hendersonville ranked number 1 in North Carolina this year, in line with their rank of 1 in last year's study.
For a look at how Hendersonville compared to other top cities in North Carolina, check the table below:
| | | | | | | | |
| --- | --- | --- | --- | --- | --- | --- | --- |
| Rank | City | Tax | Doctors' Offices per 1,000 People | Recreation Centers per 1,000 People | Retirement Centers per 1,000 people | % of Seniors | Best Place to Retire Index |
| 1 | Hendersonville, NC | 12.7% | 8.5 | 1.7 | 1.1 | 28.1% | 79.25 |
| 2 | Morehead City, NC | 12.7% | 6.4 | 1.9 | 0.2 | 21.0% | 75.90 |
| 3 | Whiteville, NC | 12.7% | 7.3 | 0.9 | 0.2 | 22.5% | 75.23 |
| 4 | Pinehurst, NC | 12.7% | 3.5 | 0.6 | 0.2 | 41.2% | 75.21 |
| 5 | Marion, NC | 12.7% | 2.9 | 0.5 | 0.9 | 16.8% | 72.91 |
| 6 | Ahoskie, NC | 12.9% | 5.8 | 0.4 | 0.4 | 21.4% | 72.71 |
| 7 | Washington, NC | 12.7% | 3.3 | 0.7 | 0.3 | 21.2% | 71.95 |
| 8 | Smithfield, NC | 12.7% | 3.3 | 0.6 | 0.3 | 22.6% | 71.84 |
| 9 | Brevard, NC | 12.7% | 2.6 | 1.6 | 0.4 | 25.7% | 71.74 |
| 10 | Shelby, NC | 12.7% | 3.5 | 0.6 | 0.3 | 17.8% | 71.23 |
In addition, Hendersonville is one of the safest cities in North Carolina according to a new 2016 study by home security and financial website CreditDonkey.
How did the number crunchers at CreditDonkey determine the safest cities? They scored each city based on violent and property crime data to come up with a composite score. That score factors in population size, murders, rapes, robberies, aggravated assaults, burglaries, larcenies, motor vehicle thefts and arsons.
For more details about these studies (and to see what other cities made the list), check out SmartAsset and http://www.creditdo
2016 Henderson County Tourism Conference: February 25, 2016
This year's line up features exciting panels from experts in tourism and economic development.
The Key Note Speaker will be Dr. Steve Morse, Associate Professor & Program Director of Hospitality and Tourism at Western Carolina University. Breakout sessions will cover cutting-edge information on business analytics from Dr. Morse, social media strategy from JB Media Institute, and partnership information with key tourism players in our region including the Blue Ridge Parkway, and the Asheville Regional Airport.
There are some wonderful opportunities to partner with the Henderson County Tourism Development Authority's coop advertising program. Some of the publications include Our State, Southern Living, Smoky Mountain Living, and Points North magazine. Find attached a list of marketing opportunities to assist you in making your selections. These affordable coop ads will be available for sale at the Henderson County Tourism Conference on a first come, first service basis. A number of media representatives will be present, so be prepared to sign up for great marketing initiatives.
The Conference is free and open to Henderson County tourism related businesses.
If you registered previously for the conference, there is no need to re-register. If you cannot attend, please email Gary Heisey ASAP, This email address is being protected from spambots. You need JavaScript enabled to view it." target="_blank" ' + path + '\'' + prefix + ':' + addy11177 + '\' style="margin: 0px; padding: 0px; color: #196ad4; background: transparent;">'+addy_text11177+'<\/a>'; //--> , to allow a seat to open for another person.
The conference provides the travel and hospitality industry with the tools and techniques to succeed in today's fast-paced marketplace.
WINTER WEATHER ADVISORY CONTINUES FOR AREAS NORTH AND WEST OF ASHEVILLE IN WNC...
Meteorologist Jake Wimberley with the National Weather Service forecast office at the Greenville-Spartanburg Airport tells WHKP early Tuesday morning…that the light snowfall we are getting early will likely continue all day Tuesday and into Tuesday night, with very little accumulation.
Winter Storm Warnings remain in effect for areas north and west of Asheville, with mosy schools in the higher northern mountains eigther closed or delayed on Tuesday. The higher mountains are actually receiving a bit less total snowfall in this event than earlier expected. An employee with the Great Smokey Mountains National Park in Gatlinburg was reporting only between 1 and 2 inches total accumulation there so far very early Tuesday morning; another report from Newfound Gap was 2.4 inches total.
Wimberley says the big concern now will be the very cold temperatures…Hendersonville's low Tuesday night should fall into the low to mid teens. We'll see highs only in the 20s on Wednesday and an overnight low Wednesday of 14 or 15 degrees again.
Thursday we'll actually get above freezing…with a high around 34 and sunshine.
But Friday bit more snow is likely…with snow early, maybe changing over to rin during the day, the back to snow Friday and Friday night.
The coming weekend will be dry but bitter cold…with highs both Saturday and Sunday only in the 20s…and Saturday night's low will fall into the dingle digits, probably around 7 degrees.
And Wimberley with the National Weather Service says there's a 40 per cent chance another clipper system will blow into Western North Carolina Monday with some light snow, and no accumulation estimates have been issued for that one yet.
So…let's hope the groundhog was right and we'll have an early spring…but we don't see it yet …with these winter weather systems staking up and blowing into our area, separated by a couple of days, and bringing light now and very cold temperatures.
By WHKP News Director Larry Freeman 02/09/16 Updated
The Department of Public health will conduct an emergency preparedness full scale exercise on Wednesday, February 10, 2016, to test its ability to respond to the simulated release of a biological agent in the community. The exercise involves notifying and deploying staff to set up a Point of Dispensing (POD) location to be used to rapidly dispense life-saving medication. Participating agencies include the Emergency Management Office, Emergency Medical Services, the Sheriff's Office, the Mountain Area Trauma Regional Advisory Committee, the Western Regional American Red Cross and the Regional and State Public Health Preparedness Offices.

The exercise will take place at the Department of Public Health, and services will be limited. The exercise is not open to the general public.
"The Department of Public Health, with the aid of our partners, is responsible for developing and executing plans to mass dispense life-saving medicine in response to public health emergencies," said Terri Arrington, preparedness coordinator. "This exercise will demonstrate our capabilities and resources to protect the health and safety of all Henderson County citizens during a public health event, whether it's a communicable disease outbreak or bioterrorism."

Specific capabilities to be tested included public information, emergency operations coordination, security and medication distribution. The exercise will also reveal critical gaps in the emergency response plan that can be corrected with additional planning or changes in policy.

For more information about the exercise or public health preparedness, contact Terri Arrington, preparedness coordinator, at 828-694-6038.
The motion was filed with the same three federal judges who found portions of the state voting map unconstitutional on Friday. State Sen. Bob Rucho, R-Matthews, who helped draw the district lines, said voting is already underway and should not be undermined by the courts. The state called for a response from the court on Monday.

"We trust the federal trial court was not aware an election was already underway and surely did not intend to throw our state into chaos by nullifying ballots that have already been sent out and votes that have already been cast," Rucho said in a statement.

Later Monday, the judges gave the plaintiffs in the case, including two from Mecklenburg County, until noon Tuesday to respond.

In a surprise decision Friday, the panel found that the 12th District, which runs from Charlotte to Greensboro, and the 1st District, which cuts east from Durham to Elizabeth City, were racially gerrymandered by Republican legislators to unlawfully dilute black votes. The judges gave the state two weeks to file different lines, a move that would also change the makeup of neighboring districts.

Given the state's appeal, the federal court could now put its own ruling on hold, or the primary elections could be rescheduled. Legal experts say it's more likely that the judges will refuse the state's request to set their order aside. The state would then appeal to the U.S. Supreme Court.

The fact that this is happening in an election year raises the stakes for everybody.

Michael Gerhardt, a constitutional law expert at the UNC School of Law

Legislative leaders advised their members Monday that Gov. Pat McCrory could call them into special session next week for several days, if they have to redraw the maps of the 1st and 12th congressional districts before the deadline or the election. However, a spokeswoman for Senate Leader Phil Berger said legislators "fully expect" a stay to be granted.

Voters across the state already have returned hundreds of absentee ballots that are based on the existing congressional lines.

Legal experts predict a long list of potential outcomes – from the Supreme Court blocking Friday's ruling so state elections can proceed to a delay in the vote to fill the 13 seats in the U.S. House.

One thing remains clear: North Carolina again finds itself at the epicenter of the country's voting wars, a 20-year court fight for power in mostly Southern states that slices across political and racial lines.

North Carolina's voting maps and election rules are embroiled in at least five federal lawsuits. The state's voter ID law is under attack in both state and federal courts, and fights continue on a more local level over district lines for the Greensboro City Council and the Wake County school board.

Now the timing of the judges' ruling in the congressional district case leaves the state and the courts little time to respond.

"The fact that this is happening in an election year raises the stakes for everybody," says Michael Gerhardt, a constitutional law expert at the UNC School of Law. "You can interpret just about everything anybody says as being driven by their own partisan concerns."

Kareem Crayton, a Vanderbilt University law professor and an expert in redistricting fights, said the state has time to redraw the lines by the court's deadline if it acts now. "It's a matter of coming up with something that the courts will accept and the legislature can live with," he said.
What will justices do?
It will surprise me if the whole Supreme Court doesn't get involved here. I believe they will deal with this on the merits sooner rather than later.

Kareem Crayton, a Vanderbilt University law professor

How the Supreme Court responds, if asked, is a matter of conjecture. Under Chief Justice John Roberts, the high court has been hesitant to make late rulings that can alter elections and confuse voters. At the same time, the issue of racial gerrymandering is a fresh one. Last year, the high court voted 5-4 to strike down Alabama's congressional districts, saying that race had played too big a role in how those lines were drawn.

Gerhardt says the justices, though sensitive to North Carolina's election calendar, do not want to put the case aside until 2017.

If the Supreme Court delays last week's order, Gerhardt expects the justices to make a quick decision on the merits of the case. "Three (lower court) judges have said these districts are illegal. To stay their order risks allowing illegally drawn districts to hold elections, and I have a hard time imagining the Supreme Court doing that," he said.

The 12th District, which flanks I-85 from Charlotte to Winston-Salem and Greensboro, was the most litigated congressional district in the country during the 1990s. Back then, Republicans argued that Democratic mapmakers had created a serpentine safe space more than 120 miles long to insure the election of Democrat Mel Watt. Courts fights involving the 12th led to delays in congressional elections in both 1998 and 2002.

Now, it's the Democrats' turn to complain. They're arguing that Republicans legislators have packed even more African-American voters into a few number of districts to ensure GOP majorities elsewhere.

On Friday, the three-judge panel ruled that legislators cared more about race than partisan politics when mapping the two disputed districts. The courts allow political motivations. For example, the 2011 maps tucked Democratic-voting Asheville into a far more conservative congressional district.

The courts have ruled, however, that district lines drawn predominantly around race violate the equal protection clause of the U.S. Constitution.
'Completely artificial'
How to separate motives of politics and race, particularly in the South, is a matter of prolonged debate. Most African-Americans in North Carolina and its neighbors vote Democratic. Thus, a map drawn by Republicans for political gain naturally would affect black voters.

Rich Hasen, an election law expert from the University of California-Irvine, calls the distinction between race and politics in deciding the constitutionality of redistricting maps "completely artificial."

"This whole separation is nonsensical," he says. "It makes absolutely no sense to fight about whether it's race or partisan politics. Because it's both. Because they're so intertwined."

Crayton, a former UNC law professor, says North Carolina's redistricting fights have flared up so often because the state is politically competitive with a rapidly growing – and changing – voter base. Unlike other Southern states, political parties and race are not necessarily synonymous, he says.

"It will surprise me if the whole Supreme Court doesn't get involved here," Crayton said. "I believe they will deal with this on the merits sooner rather than later. I'm not sure the court wants to deal with this in the middle of campaign season."

Michael Bitzer, a political scientist at Catawba College, predicts the high court will "put things on hold" and let the congressional primary take place next month, then dig into the arguments of the case later on.

The legislature could decide to satisfy the courts by removing one of three major urban areas out of the 12th and placing it in a nearby district now represented by a Republican, Bitzer said. The Charlotte, Greensboro and Winston-Salem parts of the 12th all have a heavy concentration of African-American voters.

"Pulling one of them out could make the districts (affected) a little more competitive," Bitzer said, but would not likely mean any change in which party represents the districts.

Meanwhile, the N.C. Board of Elections is telling voters with absentee ballots that they should go ahead and fill out the full ballot, said Joshua Lawson, the board's general counsel.

"Out of an abundance of caution, we're urging people to vote the (absentee) ballot you've been given ... and leave it to this agency to worry about the legal conclusion of whether (their votes in congressional primaries) will count."
How voting would happen again
If the legislature ends up redrawing any congressional district boundaries, voters in the affected districts will get to vote again, Lawson said.

As of Saturday morning, 3.7 million ballots had been printed. More than 8,600 absentee ballots have been mailed out – including 7,845 that included congressional primary contests. Just over 900 of them have been sent to N.C. voters in foreign countries.

So far, boards of elections have received back 431 of the filled-out absentee ballots.

The federal ruling forbade the state from holding any elections for the U.S. House until congressional districts 12 and 1 are redrawn, Lawson said.

But that doesn't mean people can't go ahead and vote in those and other districts, he said.

"It's not an election until we certify the results," Lawson said.

Former Democratic state Sen. Malcolm Graham said last week's ruling throws the state's election calendar into disarray and that Republicans have only themselves to blame.

Graham, who unsuccessfully ran for the 12th District seat in 2014, said Republicans knew the maps were before the courts and that judges were bound to rule. Yet they still moved all the primary elections to March, instead of keeping the congressional races and other state primaries in May.

"It's a disaster of their own making," he said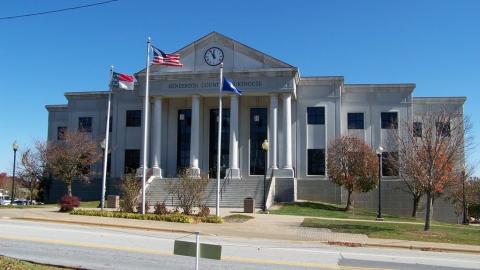 AT A COST OF $10 MILLION
Henderson County's Board of Commissioners have voted to authorize moving forward with plans for a new emergency services facility on the Asheville Highway where Balfour School is now…and to spend $10 million on it. That facility will be a new headquarters of the Emergency Medical Service, for the Henderson County Rescue Squad, for the county fire marshall, and for emergency management.
One commissioner, Bill Lapsley, voted against it…he said he belives the facility can be built for less money. Another commissioner, Mike Edney, expressed concern that spending $10 million on it would take more of the county's debt capability---but Edney voted for the new facility.
Commissioner Charlie Messer said they had kicked the can down the road on this for the last three years, and it's time to move forward with it..
The firm Clark Nexsen will serve as "construction manager" for the facility…which makes that firm responsible for finishing the project on time and on budget.
The actual construction cost for the new facility is $8.8 million…with $616,000 budges for surveying, furnishings, and other costs.
Les Boyd of the Boyd Automotive Group confirmed for WHKP News this week that his family had sold the last piece of property they owned at their former location at Main Street and Five Points in Hendersonville. That last piece of Boyd property was on the northeast corner of Five Points.
The Boyd family had operated an General Motors dealership at Five Points for many decades, and a few years ago they moved the dealership to a new location on the Spartanburg Highway. When they made that move, they sold the property on the west side of Five Points to Henderson County for a possible new campus for Hendersonville High School. At the time of that move, their price for that property also reflected a sizable donation to the counhty and to county schools.
The Boyd family retained ownership of the northeast corner of Five Points for used car sales, but in an effort to consolidate their locations, they moved the used car dealership to their Spartanburg Highway location some time back...and that left the northeast corner of Five Points largely empty and for sale.
Boyd did not disclose any terms of the sale, which was finalized about a month ago. He would only say the property has been purchased by "a local gentleman"...and Boyd said he's as curious as the rest of us about what the new owner will do with that property.
By WHKP News Director Larry Freeman 02/03/16
A very familiar name for auto buyers in Hendersonville has opened an all new dealership for previously owned cars and trucks in Hendersonville.
A spokesman for Egolf Motors tells WHKP News that Egolf purchased the former Osborne Olds/GMC property on the Spartanburg Highway and is now selling previously owned vehicles at that location.
The spokesman said all the vehicles will are E (Egolf) certified.
Egolf owned and operated the Chrysler/Dodge/Ram truck/and Jeep dealership in Hendersonville for about 40 years, starting at the intersection of South Main and South Church Streets in the former Pete Folsom dealership location...and moving many years later to Duncan Hills Road. The Egolf family sold that Hendersonville dealership several years ago, and at the same time they purchased the former Johnson Ford dealership in Brevard...and have been selling Ford/Chrysler/Dodge/Ram/Jeep products in Brevard since then.
A spokesman for the Egolf family said that Brevard location has been very successful and is allowing Egolf to take in many very clean, local, and E-crtified previously owned cars and trucks that will be available at that new Hendersonvile location on the Spartanburg Highway.
By WHKP News Director Larry Freeman 02/03/16
Punxsutawney Phil failed to see his shadow on Feb. 2, 2016, indicating an early start to spring for the United States. The decision marks only the 18th time Pennsylvania's most famous groundhog hasn't seen his shadow since the tradition began in 1887.
For the Northeast and mid-Atlantic, AccuWeather meteorologists are concerned for just the opposite, as cold air and the potential for snow will linger into the start of March. Elsewhere, springlike severe weather isn't predicted to become widespread until April.
The full 2016 U.S. spring forecast can be found below.
JUMP TO: Cold air, snow possible for mid-Atlantic, Northeast into March; Drought may develop for Great Lakes, Ohio Valley| Severe weather outbreaks to target Southeast, Gulf Coast, Tennessee Valley; Chance for early tropical impact low | Severe weather to ramp up in April for Plains, Mississippi Valley, Midwest | Western drought woes to continue into spring
Cold air and snow possible for mid-Atlantic, Northeast into March; Drought may develop for Great Lakes, Ohio Valley
Warm weather lovers in the mid-Atlantic and Northeast will have to be patient, as winter plans to linger into March across both regions.
Cold air and stormy weather will take the stage from late February into the start of March, opening the door for a potential late-winter snowstorm.
"There could be a last surge of winter before we see the transition into spring," AccuWeather Long-Range Meteorologist Paul Pastelok said. "For the Northeast, there's still an opportunity for some snow, although there's a higher chance that we'll see a cold snap rather than a big snowstorm."
A quick warmup will follow, however, allowing milder air to arrive faster than it has in the past two years for both regions.
"A lack of arctic air in the region and the sun getting higher and higher in the sky will make it feel pretty nice, I think, by mid-March in the Northeast," Pastelok said.
Through April, the weather pattern will lend itself to the occasional damp and dreary day before a turnaround in May.
"Big cities around the Great Lakes will have nice weather for outdoor projects and early planting in May," Pastelok said. "Expect mild temperatures, frequent sunshine and cooler nights."
May could also yield drought concerns for the Great Lakes and Ohio Valley, prompting some early season heat. During the same month, the threat for severe weather will loom for the mid-Atlantic.
Severe weather outbreaks to target Southeast, Gulf Coast, Tennessee Valley; Chance for early tropical impact low
Spring will kick off with periods of wet weather across the Southeast, increasing the risk for flooding throughout the region. Florida, Georgia and South Carolina will be at an especially high risk.
From late February through March, the threat for severe thunderstorms will ramp up in Florida. Elsewhere however, severe weather will get a slow start with below-normal tornado totals predicted for the month.
Come April, warmer air will help to fuel severe storms, allowing multiple, widespread outbreaks to occur. Atlanta, Charlotte, North Carolina, and Chattanooga and Nashville, Tennessee, are all in the line of fire.
In the Gulf Coast states, the severe weather may turn into flooding events during April and May.
Those concerned for early tropical development can breathe a sigh of relief: The chance for an early impact will be low.
Severe weather to ramp up in April for Plains, Mississippi Valley, Midwest
Stable air in place across the central Plains and the Mississippi Valley during March and early April will help to hold back severe weather.
However, that will change as April progresses and storms track from the Southwest, leading to increased severe weather in the central and southern Plains, Mississippi Valley and Midwest.
"Intense warmth ahead of these storms coming out of the West is going to promote severe weather. Those are the ingredients you need," Pastelok said.
"The thing that worries me the most is that it could turn into heavy rain producers that could lead to flooding. And we've seen lots of flooding already over this past winter season in the Mississippi Valley."
Across the southern Plains states, flooding this year is not predicted to be as severe as last year, when between 15 and 20 inches of rain inundated Oklahoma and Texas.
RELATED:
AccuWeather.com winter weather center
AccuWeather Video Wall
Dangerous blizzard to unload a foot of snow from Colorado to Michigan
Western drought woes to continue into spring
An El-Nino weather pattern has delivered rain and mountain snow to the western United States this winter, and that trend will largely continue during spring.
Drier-than-normal conditions will affect the Northwest in March; however, the rest of the West may continue to have surges of moisture into April.
Snow is forecast to fall across the high ground of the central and southern Rockies in March. In California, abundant precipitation could lead to additional flooding problems.
"Throughout the winter, the focus for precipitation has been on both northern and central California. While this will continue to be the case into spring, one or two systems are on the radar for Southern California in March," Pastelok said.
Rain and mountain snow have helped to ease short-term drought woes in the Golden State, but the long-term water crisis will continue.
"We've gotten the snow in the Sierra. We've gotten the rain in the short term. It will continue through the end of the wet season, which is good news as well," Pastelok said.
"That will help out agriculture in the short term. That will help out the drinking water situation. However, will it relieve all the other problems that occurred over the last four and a half years? Probably not. I think we need another season like this."
Pardee Hospital Foundation announced today that the James H. Cummings Foundation awarded $200,000 and The Cannon Foundation awarded $150,000 to support recent operating room renovations as part of the hospital's Comprehensive Cancer Center Capital Campaign. The renovations integrate the latest lights, equipment and computers in Pardee's 10 operating rooms, making operating environments even safer and more effective. Each fully integrated surgical suite has:
More space surrounding the patient to accommodate surgeons and staff.

LED cool lights so rooms can be warmer, which is better for patients and staff.

An advanced camera so photos can be taken throughout surgery for future surgical reference and/or patient education.

Reduced shadows, resulting in better viewing conditions for surgeons.

No cords or wires that could cause tripping or jeopardy of medication delivery.

Highly visible screens accessible by all members of the team; essential for viewing key information or recording video.

Central controls of all technology, easily controlled by one technician.

Stabilized computer stations housed on special beams.
"We are so grateful for the generous support of the James H. Cummings Foundation and The Cannon Foundation," said Kim Hinkelman, executive director of Pardee Hospital Foundation. "Their gifts helped fund important renovations to our 10 operating suites, which will improve patient outcomes and surgical success, ensuring the best possible care for residents in our community."
James H. Cummings Foundation, Inc. is a charitable, not-for-profit corporation organized in New York in July of 1962 for the purpose of complying with certain directions in the will of its founder and namesake. James H. Cummings was a resident of Buffalo, N.Y., where he owned and operated a pharmaceutical business, American Ferment Company. With offices and plants in both Buffalo and Toronto, Canada, Mr. Cummings grew strong ties to both cities, but he was just as much at home raising cattle on a farm he owned near Hendersonville. The Foundation has supported many renovation projects for Pardee Hospital, including cardiovascular, diabetes, orthopedic and spine facility renovations. For more information, visit www.jameshcummings.com.
The Cannon Foundation, Inc. is part of the philanthropic legacy of Charles A. Cannon, industrialist and humanitarian, who was President and Chairman of Cannon Mills Company for more than half a century. The Foundation continues Mr. Cannon's philanthropy through funding in healthcare, higher education, human services and community. For more information, visit www.cannonfoundation.org.
Pardee Memorial Hospital Foundation was approved as a nonprofit Foundation in January 1996. The Foundation exists to educate and inspire the community to support Pardee Hospital. Since its inception, the Foundation has generated more than $30 million in pledges and cash gifts for Pardee services. For more information, visit www.pardeehospitalfoundation.org or call (828) 233-2700.